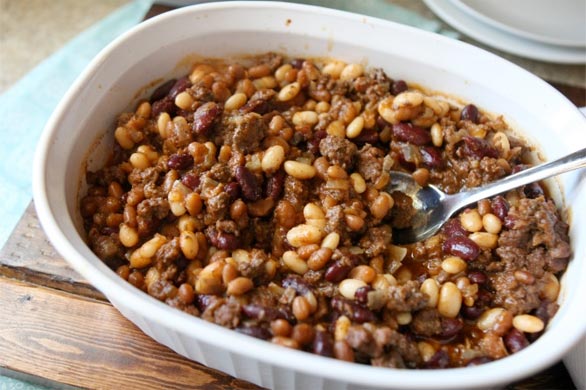 Serves: 6
Ingredients
1 pound ground bison
1 medium onion, chopped
1/3 cup brown sugar
1/4 cup ketchup
1/4 cup barbecue sauce
1/4 teaspoon hickory liquid smoke
1 tablespoon mustard
1/2 teaspoon chili powder
1/2 teaspoon pepper
1 16-ounce can pork and beans
1 16-ounce can kidney beans, rinsed and drained
1 16-ounce can Great Northern beans, rinsed and drained
Instructions
Preheat oven to 350 degrees F. Grease a 2.5-quart baking dish or spray with nonstick cooking spray.
In a large skillet over medium heat, break up and brown bison and cook with onion.
When bison is browned, stir in brown sugar, ketchup, barbecue sauce, liquid smoke, mustard, chili powder and pepper. Mix well.
Stir in beans and combine. Pour mixture into prepared baking dish.
Bake, covered, 1 hour until heated through and bubbly.