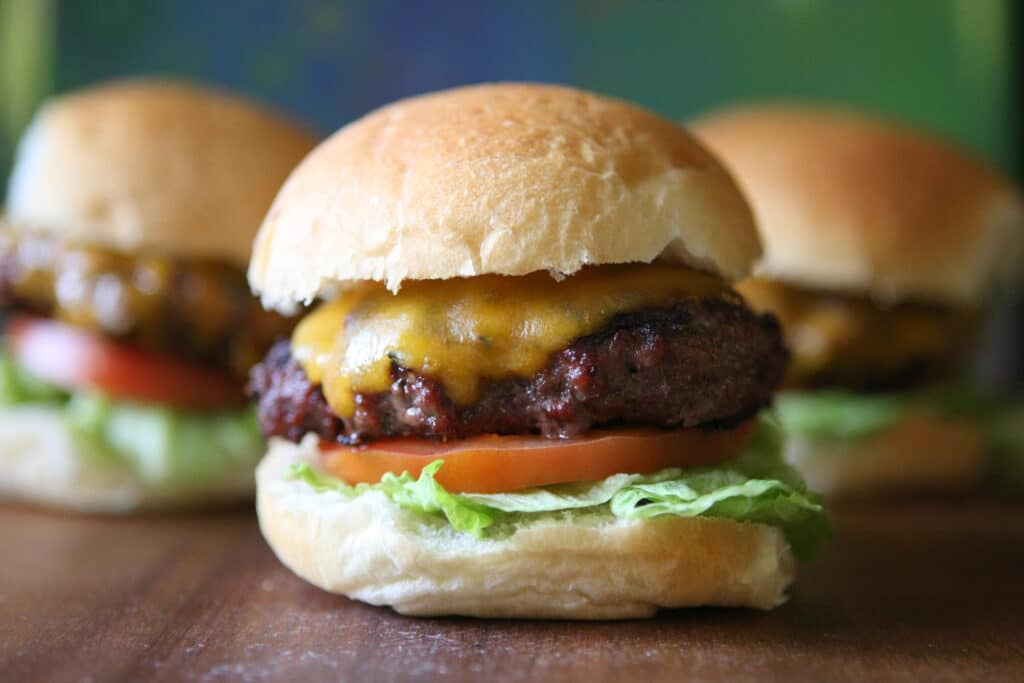 Caesar Burger
Season burger with garlic and black pepper, on a crusty roll, accented with Caesar dressing, romaine lettuce and avocado slices
Greek Burger
Tuck grilled burger inside a round of pita bread and fill with herbed Feta cheese, sliced olives of choice and sautéed onions.
Euro Burger
Top bison patty with a thin slice of ham, followed by Swiss cheese and Dijon mustard
Omelet Burger
Mound patty with diced ham, sharp cheddar cheese, mushrooms and peppers and enjoy nestled on a toasted English muffin.
Brie Burger
Layer sliced granny smith apples topped with herb crusted Brie and just a dollop of your favorite mustard and warm to melt cheese.
Nacho Burger
Top a crisp tostada shell with burger patty, shredded cheddar cheese, green chills, your favorite salsa and sour cream.
Aloha Burger
Top the burger with grilled fresh pineapple and smoked Gruyere cheese…yum!
True Blue
Top off the burger with a dollop of chunky blue cheese dressing, sliced tomato, a leaf of endive all nestled on a flaky croissant.
Mama Mia Burger
Top burger with pepperoni, sautéed peppers, mozzarella cheese, cheddar cheese and marinara sauce and serve on your favorite focaccia.
Pesto Burger
Top off the burger with cooked spinach, mozzarella cheese and your favorite pesto sauce.
OK Corral
A hearty handful of burger topped with baked beans, bacon and chili sauce served up on thick sliced wheat bread.
Stir-Fry Burger
Stir up your appetite with this burger topped with stir-fried pea pods, sprouts, broccoli and peppers. Toss in a zing of soy sauce and serve on toasted sesame seed bun.
Welsh Rarebit Burger
Serve this burger open-faced on toasted French bread and top it with melted cheddar cheese sauce and crisp bacon strips.
Double Decker
For each serving create two thin patties and tuck cheddar cheese and pizza sauce in between and cook.