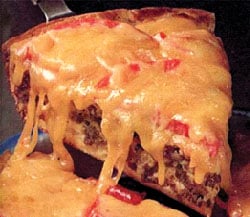 Serves: 4
Ingredients
1 lb Ground Bison
½ cup Milk
1 Egg
2 cloves Garlic, minced
½ tsp Salt
¼ tsp Pepper
½ tsp dried crushed Oregano
½ cup Ketchup
½ cup chopped Onion
1 can (6 oz) sliced Black Olives, drained
1 ½ cups shredded Cheese – cook's choice
2 Tbsp finely chopped fresh parsley
Instructions
Combine the ground bison, milk, egg, garlic and seasoning in a bowl; blend well.
Press the mixture evenly on the bottom and up sides of an ungreased 9-inch pie plate.
Layer with the ketchup, chopped onion, olives, and cheese.
Bake in a preheated 400° oven for 30 to 35 minutes.
Sprinkle with the parsley and cut into wedges.