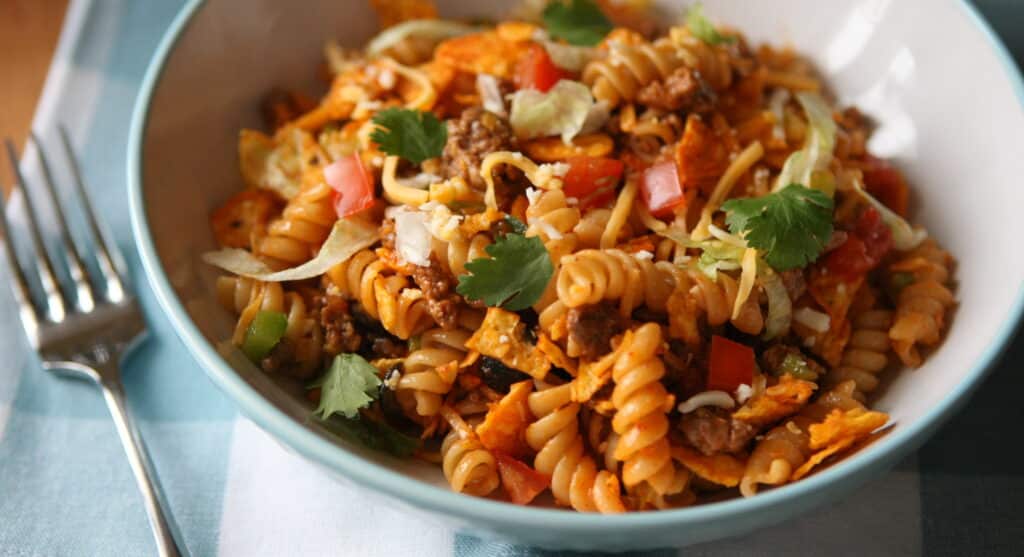 Serves: 6 as an entrée or 12 to 14 as a side dish
Ingredients
1 pound rotini pasta
1 pound ground bison
1 packet taco seasoning (or 3 tablespoons homemade seasoning)
1/2 green bell pepper, diced
1/2 small onion, diced
2 plum tomatoes, diced
1 small can black olives, drained
2 cups shredded Colby-Jack cheese
3 cups shredded lettuce
1 1/2 cups French dressing
1 9.75-ounce bag nacho cheese Doritos, crushed
Instructions
Cook and drain pasta according to package directions. Rinse with cold water; drain and set aside.
Meanwhile, crumble and cook ground bison over medium heat. Add taco seasoning (but don't add the water as instructed on the package).
In a large bowl, combine pasta, bison, green pepper, onion, tomatoes, olives, lettuce and cheese. Stir in dressing until everything is coated.
Stir in crumbled Doritos right before serving.