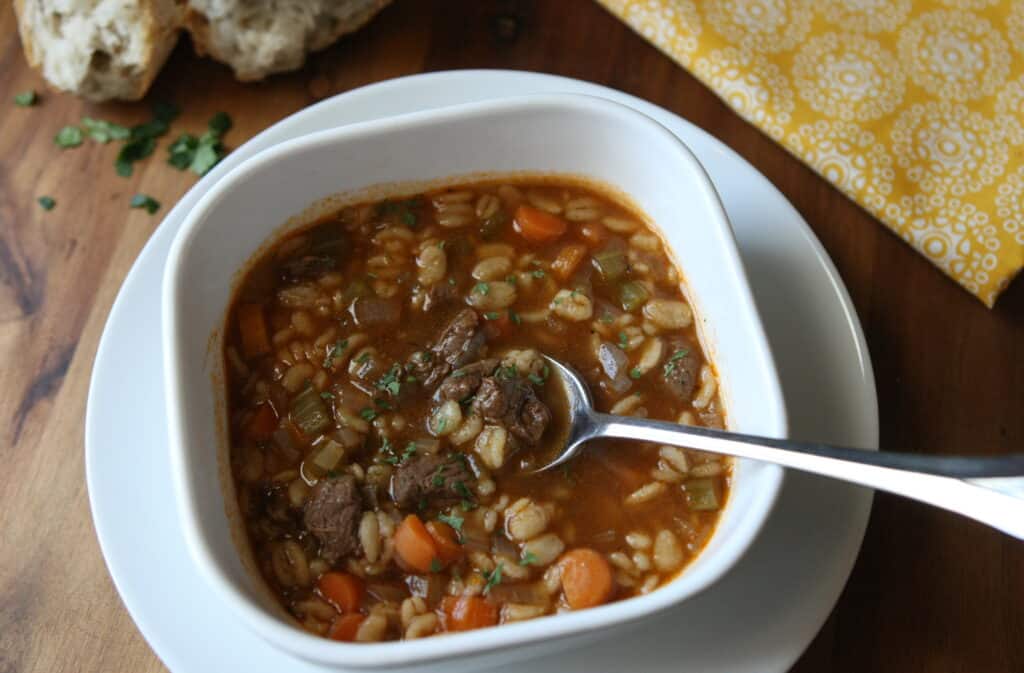 Serves: 4
Ingredients
8 ounces bison sirloin, cut in small pieces
Salt and pepper, plus more to taste
2 teaspoons olive oil
1 large carrot, finely diced
1 stalk celery, finely diced
1 medium onion, finely diced
2 tablespoons tomato paste
1 dried bay leaf
1/2 teaspoon dried thyme
2/3 cup quick-cooking barley
1 cup water
4 cups beef broth
1/2 teaspoon red wine vinegar
Instructions
Sprinkle bison sirloin with salt and pepper. Heat oil in a pot over medium-high heat and add bison, stirring often, until browned on all sides.
Reduce heat to medium. Add carrot, celery and onion. Cook, stirring, until vegetables begin to soften, about 2 minutes.
Add tomato paste, bay leaf and thyme. Continue stirring until vegetables are coated with tomato paste and start to brown, about 1 to 2 minutes.
Add barley, water and broth and bring to a simmer. Reduce heat to medium-low and cook until barley is tender, about 25 minutes.
Remove from heat, Remove bay leaf and stir in red wine vinegar. Season to taste with salt and pepper.