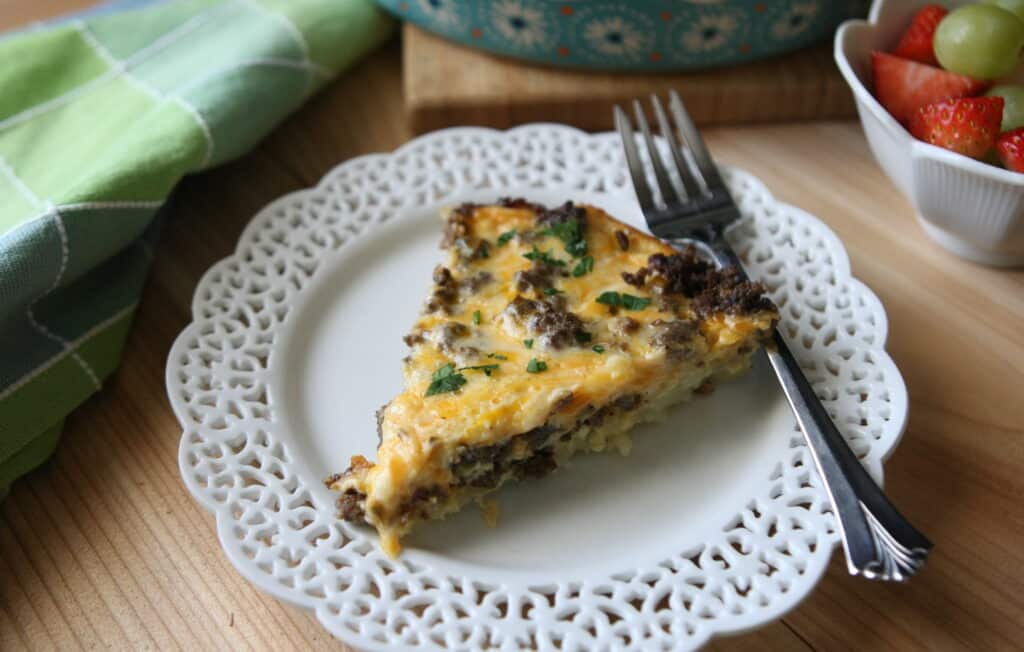 Servings: 12 to 16
Note: To halve recipe, follow same baking times but use a 9-inch pie plate.
Ingredients
Bison breakfast sausage
1 pound ground bison
¾ teaspoon salt
½ teaspoon onion powder
½ teaspoon rubbed sage
½ teaspoon dried thyme
½ teaspoon ground nutmeg
¼ teaspoon cayenne pepper
1 ½ teaspoons hickory liquid smoke
Pinch crushed red pepper flakes (optional)
Quiche
32 ounces frozen shredded hash brown potatoes, thawed
2/3 cup butter, melted
4 eggs
1 cup heavy cream
½ cup shredded pepperjack cheese
1 cup shredded Swiss cheese
2 cups shredded cheddar cheese
¼ teaspoon salt
1/8 teaspoon pepper
Instructions
Preheat oven to 425 degrees F. Grease a 9×13-inch baking dish (or spray with cooking spray)
Sprinkle bison with seasonings. Crumble and brown in frying pan over medium heat until brown. Remove from heat and set aside.
Place hash browns in bottom of baking dish and brush with melted butter.
Bake 30 minutes, then reduce heat to 350 degrees F.
Sprinkle hash browns with breakfast sausage.
Combine eggs, cream, cheese, salt and pepper and pour over sausage.
Cover with foil and bake 30 minutes.
Let sit 10 minutes before serving.