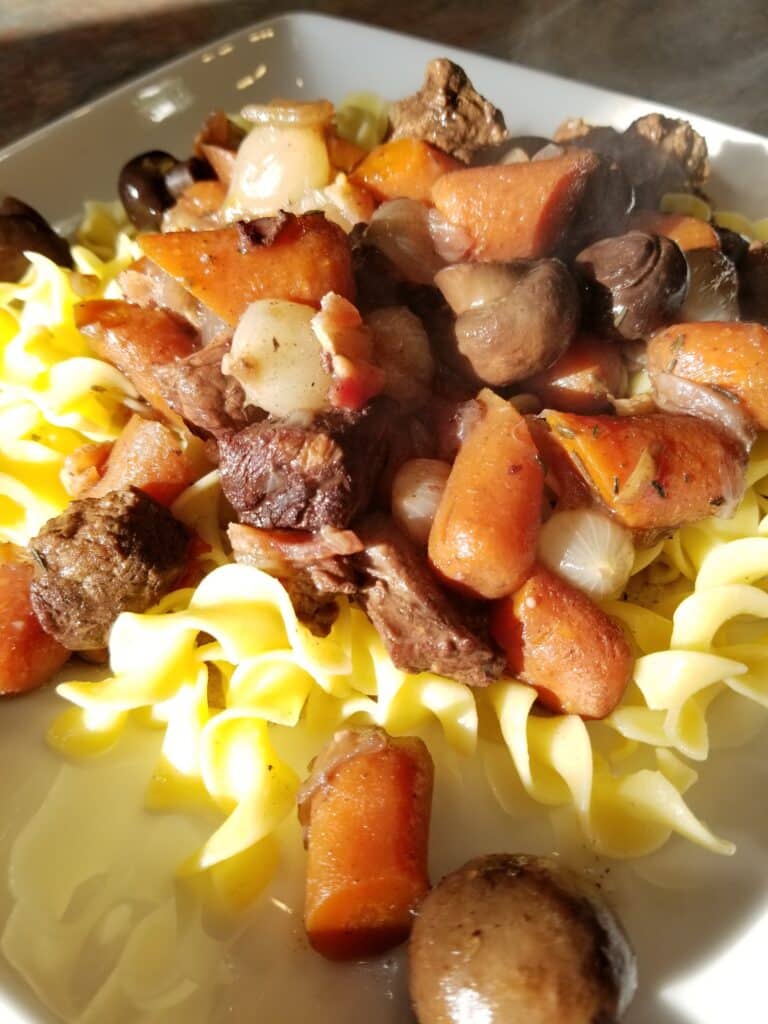 Ingredients
1 lb boneless Bison chuck roast, cut into ¾-inch cubes, or stew meat
¼ tsp pepper
2 bay leaves
¼ cup water
3 cups whole fresh mushrooms
1 cup chopped onion
4 medium carrots, cut into ¾ inch pieces
1 clove garlic, minced
8 oz pearl onions
1¼ cup burgundy wine
3 Tbsp quick-cooking tapioca
½ c beef broth
¼ cup water
1 tsp dried thyme, crushed
¾ tsp dried marjoram, crushed
½ tsp salt
2 slices bacon, crisp-cooked, drained, and crumbled
3 cups hot cooked noodles
Instructions
Brown meat, chopped onion, and garlic in water until meat is brown and onion is tender, drain.
In a 3½ or 4 quart slow cooker layer mushrooms, carrots, and pearl onions. Sprinkle with quick-cooking tapioca.
Place meat mixture on top of vegetables.
Add thyme, marjoram, salt, pepper, and bay leaves.
Pour  burgundy, beef broth and second ¼ c water over meat.
Cover, cook on low-heat setting 10 to 12 hours or on high-heat setting 5 to 6 hours or till tender. Discard bay leaves. Stir in bacon.  Serve with egg noodles.
Special thanks to Milissa Linz for sharing this recipe.