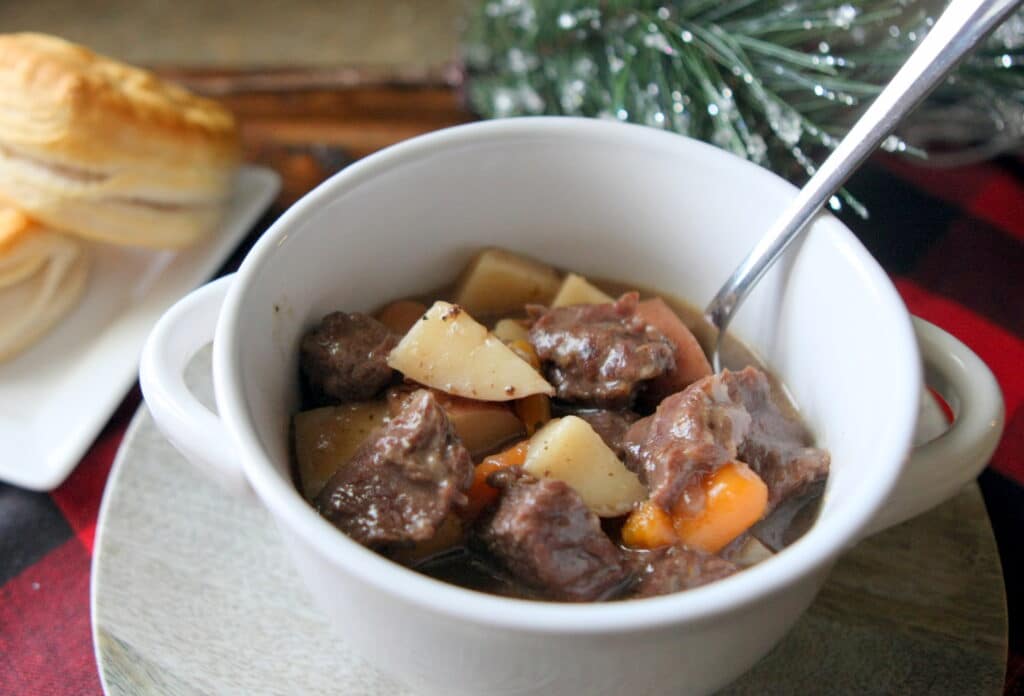 Serves: 4
Ingredients
2 teaspoons vegetable oil
1 1/2-2 pounds bison chuck roast or sirloin, cut in bite-sized pieces
Flour, for dusting bison
Salt, pepper, onion salt, and garlic salt, for sprinkling on bison (or Montreal Steak seasoning)
32 ounces beef broth
3/4 pound carrots, peeled and cut in bite-sized pieces
2 pounds potatoes, scrubbed and chopped in bite-sized pieces
1 bay leaf
1 teaspoon onion salt
1 1/2 teaspoons seasoned salt
1/4 cup cornstarch
1/2 cup water
1 cup frozen peas (optional)
Additional salt, pepper, onion salt, and garlic salt, to taste
Instructions
Heat Instant Pot on saute and add oil until hot.
In a zip-top bag, combine bison and flour.
Add bison to Instant Pot. Sprinkle with salt, pepper, onion salt and garlic salt (or Montreal Steak seasoning) and cook until brown on all sides, browning in two batches if necessary.
Add broth to Instant Pot, using a wooden spoon to scrape up an bits on the bottom of the pot.
Add carrots, potatoes, bay leaf, onion salt and seasoned salt.
Cook on high pressure for 30 minutes, then do a quick release.
Combine cornstarch and water, and stir into stew. Add peas, if desired. When stew thickens, season to taste and serve, removing bay leaf.