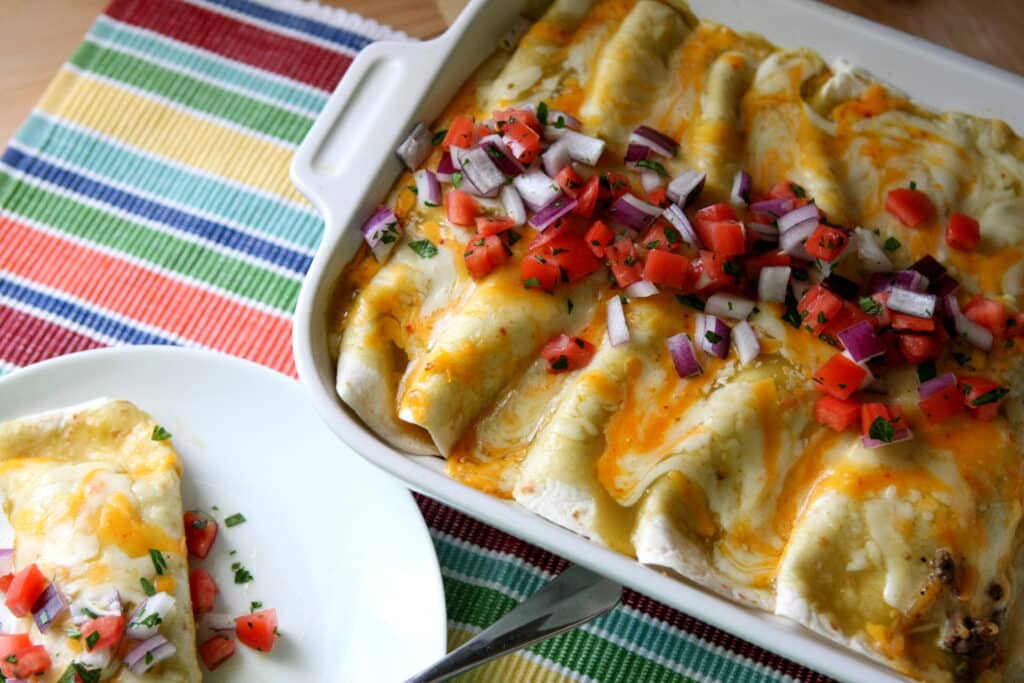 Serves: 6
Ingredients
Bison breakfast sausage
1 pound ground bison
¾ teaspoon salt
½ teaspoon onion powder
½ teaspoon rubbed sage
½ teaspoon dried thyme
½ teaspoon ground nutmeg
¼ teaspoon cayenne pepper
1 ½ teaspoons hickory liquid smoke
Pinch crushed red pepper flakes (optional)
Enchiladas
2 tablespoons vegetable or canola oil
20 ounces frozen shredded hash brown potatoes, thawed
½ teaspoon salt
½ teaspoon chili powder
¼ teaspoon cayenne pepper
¼ teaspoon pepper
2 cups shredded cheese, divided
6 8-inch flour tortillas
2 10-ounce cans green enchilada sauce
Diced red onion, tomato and cilantro, for serving
Instructions
Preheat oven to 375 degrees F. Grease a 9×13-inch baking dish (or spray with cooking spray)
Sprinkle bison with seasonings. Crumble and brown in frying pan over medium heat until brown. Remove from pan.
Heat oil in same pan over medium-high heat and add hash brown potatoes. Saute until lightly golden, about 8 to 10 minutes. Remove from heat and stir seasonings, breakfast sausage and ½ cup cheese.
Divide filling among tortillas. Roll tightly and place seam-side down in greased baking dish. Top with enchilada sauce and remaining cheese.
Cover with foil and bake 30 minutes. Top with onion, tomato and cilantro before serving.