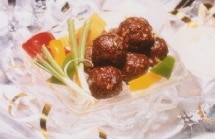 Versatile Bison Meatballs
Ingredients
3 lbs Ground Bison
3 eggs, slightly beaten or egg substitute
1½ Bread Crumbs, Plain or seasoned
¾ cup Milk
½ cup Onion, finely chopped
¼ cup Dried Parsley Flakes
1½ Tbsp Worcestershire Sauce
1 tsp Garlic Powder
1 tsp Pepper
Instructions
Heat oven to 375°.
In large bowl blend all ingredients well.
On a greased, foil lined, baking sheet create a square with the mixture. Taking a long bladed knife cut into 1 inch squares; do not separate squares.
Bake for 15 minutes or until meatballs are throughly cooked. Seperate into individual meatballs.
Once cooled, spares can easily be frozen for quick meals such as Skillet Spaghetti, Meatball Sandwich or for a tasty Appetizer.